our fiber optic
cable solutions
Nextrom offers the most comprehensive range of production solutions for all types of fiber optic cables imaginable.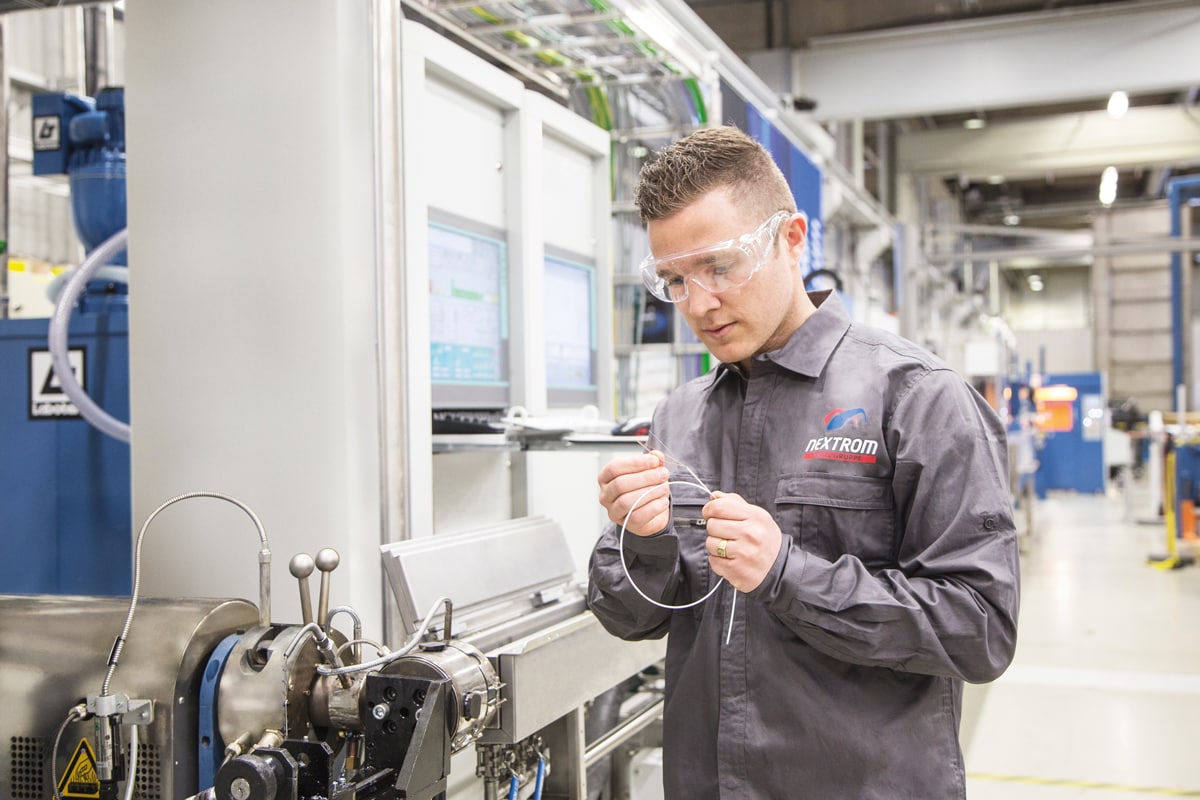 our fiber optic cable solutions
We provide Fiber Optic Cable lines that are specifically designed to complement each process step from start, all the way to the desired finished product.

This allows our customers to produce the high-quality fiber optic cables associated to our brand.
Fiber Optic Cable lines for loose or tight buffering optical fibers as well as tube extrusion for fiber bundles and ribbons to SZ-Stranding of the buffered fibers to be finalized by Jacketing/Sheathing process to create the outermost protection for the optical cables, for all previously mentioned fiber types.
With over thousands of delivered cable lines since the late 1970's, our knowhow and expertise in this field is second to none. Showcased by that many of our lines delivered decades ago still in production today.
This is due to us always being on the forefront of innovation without forgetting our tradition – providing quality to our customers. All our lines are upgradeable with the latest innovations.
Expand the lifespan and maximize of your fiber optic cable lines productivity by updating and replacing key components/machines in your specific optical cable line. Nextrom has provided manufacturing solutions for the fiber optic cable industry for almost a half a century. Our production lines are being operated by the most prestigious optical fiber producers across the globe.
State-of-the-Art Fiber Optic Cable Manufacturing
Indoor Fiber Optic Cable Solutions
The OFC 42 is optimized to produce the buffers for different kinds of fiber optical indoor cable designs. Such designs include tight buffered, semi-tight buffered fibers and micro-sheath bundles, with single or dual layers made of a large variety of materials such as PA12, PE, PVC, PTFE (FEP) and UV curable acrylates.
The design of the extrusion line is modular, flexible and easily adaptable to current and future products and suitable for high productivity. It includes a large selection of optimized pay-off and take-up , online acrylate coating, fiber pre-wetting of fibers
The OFC 43 premises cable extrusion line is designed for a broad range of fiber optical indoor and fiber to the home (FTTH) cables.  Production of indoor optical fiber cables including FTTH, drop, simplex, duplex, distribution, break out and riser optical fiber cables.
DTSZ stranding and our ROEX extruder technology are the key for manufacturing a wide range of products on the premises cable extrusion line. Allows stranding, yarn application and extrusion in one process step.
Innovative solutions with flexible layouts and modular line component concept enable efficient manufacturing of fiber optic indoor cables.
Outdoor Fiber Optic Cable Solutions
Secondary coating line – For Single/Dual Layer and Jelly/Dry Loose Tube Production.
The high-speed and compact OFC 40 secondary coating line is optimized to produce a variety of dry or jelly filled loose tubes, microtubes and central larger tubes. It can also be modified for fiber bundle or premises cable production.
The newest generation of secondary coating line provides solution for efficient production.  High-speed production and short set-up times with minimized start-up scrap for production of single, dual layer, jelly filled and dry loose tubes.
The design of the line, in combination with the material and process knowledge, ensures the support of various types of plastic tube designs.
The clenching system is an integral and unique tool to increase performance on the line while maintaining low excess fiber length during operation and simultaneously reducing post-shrinkage of the tube.
Additional line components like fiber quick cutters in combination with fully automatic universal dual take-ups provide a unique overall equipment efficiency.
The OFC 70  line is designed to SZ-Strand a variety of tubes containing fibers or ribbons. With it, you can manufacture fiber optic cables for a wide range of indoor and outdoor applications with a flexible layout.
Our stranding technology supports jelly-filled as well as complete dry cable designs, as a stand-alone process or tandemized with the sheathing process.
Boost your productivity of the SZ stranding process to a new level with high production speeds, long batches, reduced set-up times and less downtime.
Our stranding process guarantees in all circumstances low stranding tension fluctuation, accurate and stable lay-length and constant binding tension.
Benefit of a controlled stranding process with advanced new technical solutions like torsion shaft lay-plate SZ stranding machine as well as dual cross binders with an adequate line control system.
Nextrom OFC 60 jacketing line is designed for sheathing of fiber optic cables, including different kinds of cable types such as direct buried, duct and aerial cable designs.
Proven and reliable technology enables high performance and versatility for a wide range of fiber optic cables designs.
Extruders provide suitable output range for all kinds of compounds related to the fiber optic cable sheating process.
Armoring equipment for aluminum and corrugated steel tapes. State-of-the-art metal tape handling equipment, tape forming tools for both aluminum and steel, aramid servers and jelly filling systems support the complete product range imaginable, at a high productivity level.
Create your perfect-fit production process with the various configuration options of the OFC 60 with minimal start-up scrap.
Depending on cable design, armouring equipment, yarns, stranders and jelly filling equipment can all be integrated into the line.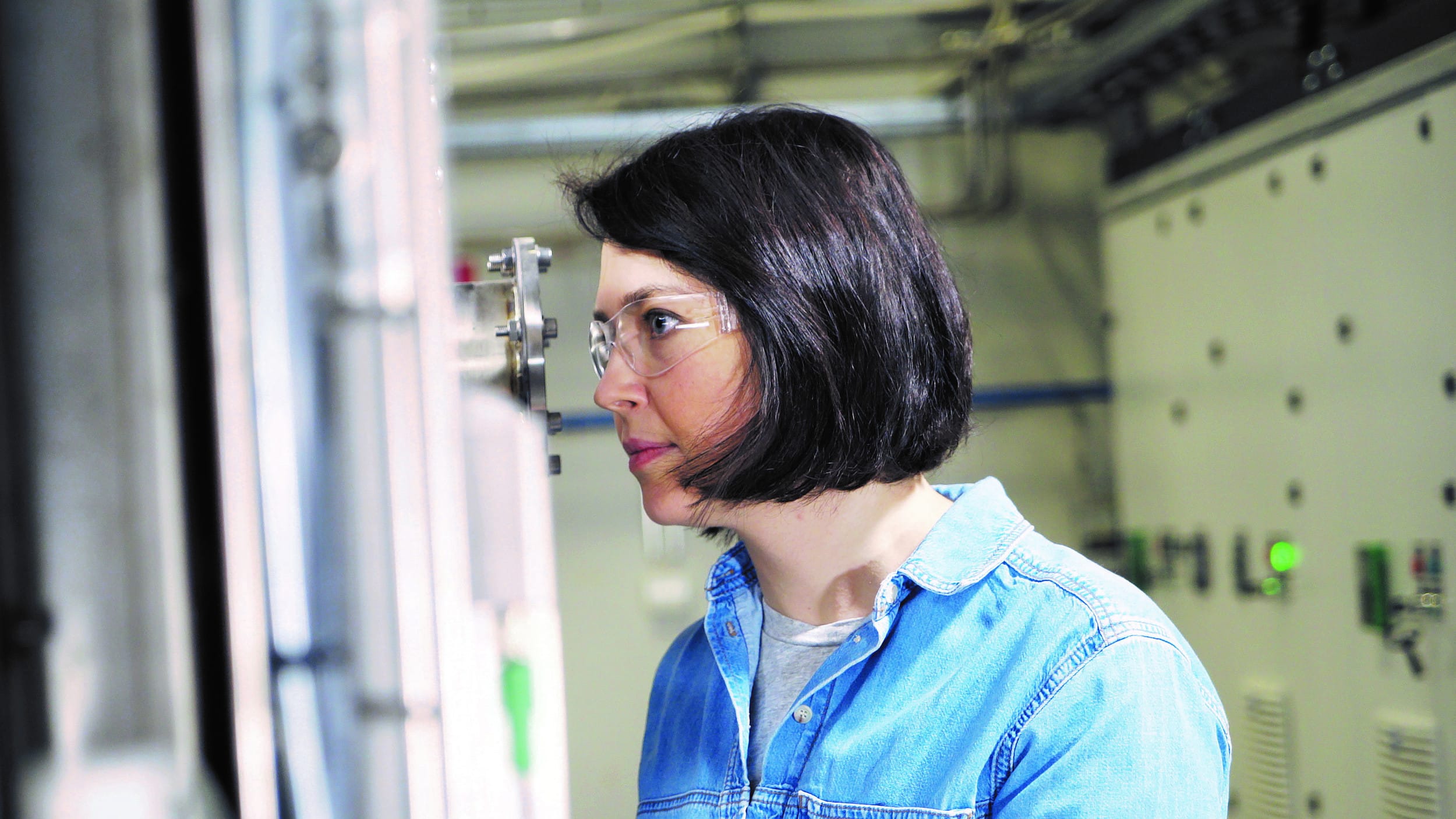 From first contact onwards, we provide customized high quality solutions and personal support to ensure total customer satisfaction.